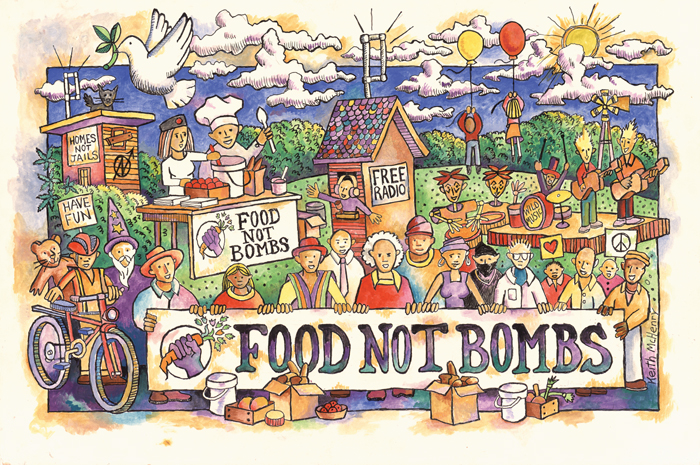 figured out a clever way to avoid arrest while still feeding the city's homeless population on public grounds:
host their event at City Hall.
Members of the group had
previously been arrested
during a food sharing event at the picnic area of Lake Eola park, allegedly for violating a statute that criminalizes the feeding of more than 25 people without a permit.
Ben Markeson, the media liaison for Orlando's
Food Not Bombs
, told
Raw Story
in an interview Tuesday that they made the decision to move their event due to the throngs of people who flock to Lake Eola every year on Independence Day -- and to remind the mayor of a seemingly forgotten promise.
"What happened was, Mayor [Buddy] Dyer was quoted as saying that he offered to let Food Not Bombs gather at City Hall any time they like, and he'd donate some of the peppers he grows on his mayoral balcony to the chili pot, so, we wanted to see if he would live up to his word."
- Ben Markeson, Food Not Bombs media liaison
Markeson added that while mayor did not make an appearance on Monday, they were not harassed by police and "at least 100" people turned out for oatmeal, grits, pancakes, potatoes, bread and coffee.
He also said that City Hall had not been used in the past because it lacks easy access to basic sanitation facilities, unlike the public park which has running water outdoors.
"A nation that continues year after year
to spend more money on military defense
than on programs of social uplift